Medical Heroes Appreciation 5K- San Diego
Event Venue:
Embarcadero Marina Park South
Event Time:
6:45am - 8:00am
Event Date:
Monday, June 16, 2014
Event Location:
1 Marina Park Way, San Diego, CA 92101, United States, 32.7042176, -117.15997449999998
Our deepest thank you to all who ran, walked, volunteered, and sponsored the inaugural Medical Heroes Appreciation 5K in San Diego! With your support and enthusiasm, it was truly a success.
View the article in DIA Global Forum here.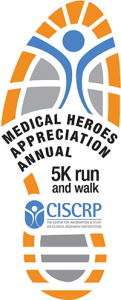 Together 300 professionals, patients, and community members celebrated the people who give the gift of participation in clinical research. The event was held in conjunction with the Drug Information Association (DIA) 2014 Annual Meeting and gained promotional support by the association and its members.
*PLUS The Greater Gift Initiative donated 
one vaccine to one child in need

 for every 5K registrant*

Press Releases: EMD Serono 5K Press Release             CenterWatch 5K Press Release

Click here to see the course route!
Thank you for joining us at the Inaugural Medical Heroes Appreciation 5K event!
It is said that the greatest gift is one which is given anonymously, giving when you don't know whether you will get direct personal benefit. Medical Heroes give us this unique gift. Medical Heroes are the individuals who help advance public health and medical knowledge by taking part in clinical research trials. They are found in everyday places, and they deserve our gratitude.
To fundraise for this event, please refer supporters to: https://donatenow.networkforgood.org/med-heroes-5k
Show your support and appreciation for the volunteers who give the gift of their participation in clinical research and make new medical discoveries possible. Proceeds from this event will provide education and outreach to patients and their families. Our impact is powered by your generosity and dedication to our cause – thank you!
Make a donation by phone: Call us at 617-725-2750
Make a donation by check payable to CISCRP and mail to:
56 Commercial Wharf East, Boston, MA 02110
Questions? Comments?
Email us at medhero5k@ciscrp.org
Call us toll free at 1-(877)-MED-HERO!