CISCRP has developed a unique community program that will enrich the study volunteer experience, shift public perception around what it means to be a clinical trial participant, and improve public awareness and engagement.
Many study volunteers feel connected to their trial and their care team but feel little lasting connection to clinical research after their final study visit. If we begin supporting study volunteers long-term, we will create a community of patients who understand the importance of clinical research participation and act as ambassadors to spread this message.
This program will provide a platform for study volunteers to engage further with each other and with the clinical research enterprise through continued support with resources and learning tools, and a variety of opportunities for ambassadorship.
Basic Membership offerings are built on three main pillars: Awareness and Education, Enriched Participation Experience, Contribution and Community
Overview of Program Offerings
Recognition and honor as a Medical Hero
Quarterly Alumni Newsletter

Special content for this unique community.
Shares patient stories, FDA drug approval updates and research innovations, and tips for ambassadorship.

Medical Hero Ambassador Training

Provides members with tools and strategies to build awareness and understanding of clinical research in their communities.
CISCRP team works hand-in-hand with members to give support and training needed for working health fairs, speaking at community centers, churches, and more.
Medical Heroes Appreciation events

Members will be invited as honorary guests to 5K Run & Walks, special dinners, and other events.
These events also provide networking opportunities for Medical Heroes to connect with one another and build relationships among the community.

AWARE for All Patient Panels

Members will have the opportunity to speak to entire communities at AWARE for All, as well as other conferences, meetings, and events.

Editorial and feedback panels

Members will be able to participate in patient advisory boards, protocol design and informed consent form feedback committees, as well as online community feedback on brochures and educational materials.
Members with certain conditions will be invited to editorial panels to review trial results summaries for the Communicating Trial Results program.
We offer many customizable options to enrich the Alumni Community experience further. These options include:
Custom Thank You letter and Resource List given on the final study visit, co-branded with sponsor
Medical Hero shirts, hats, and fabric bags
Port accessible jacket for chemotherapy and dialysis patients, co-branded design
Custom Gift of Participation book with sponsor company logo and message on inside cover
Disease-specific Ambassador Training led by qualified guest host
Lay language trial results summaries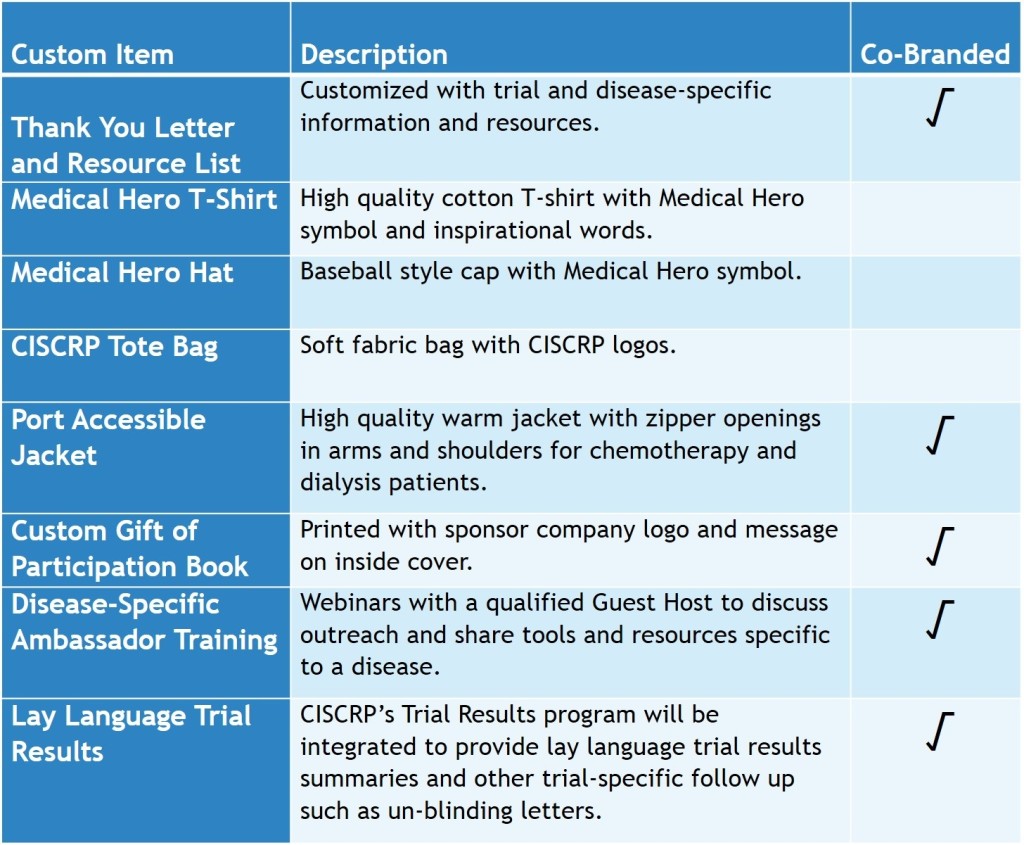 Our vision is an international community of Medical Heroes who consider clinical research participation to be a part of responsible, healthy living. These individuals see their contribution to medicine as an integral part of public health and understand the important role that study volunteers play. They speak to friends and family members about their experience and share their knowledge as ambassadors within their communities.
Contact mayawise@ciscrp.org for more information about this program. Whether you are a study volunteer hoping to join the Alumni Community, or a clinical research professional interested in providing membership for your clinical trial participants, we can help!