Corporate Partnering
Event Sponsorship Opportunities
Help make our CISCRP special events even more successful and impactful by becoming a sponsor! Learn more about the available sponsorship or hosting opportunities for the events below by calling (617) 725-2750 or by emailing support@ciscrp.org.
Program Sponsorship Opportunities
Our impact is powered by the generosity and dedication of forward-thinking companies who share our values and support our growing initiatives. We encourage partnerships and collaboration, as these relationships build a strong foundation for launching new programs and ensuring the success of those in-progress.
Learn more about sponsoring a program by emailing support@ciscrp.org.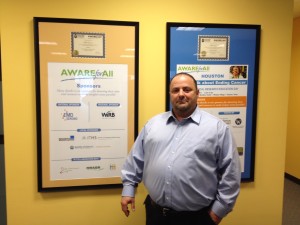 Paulo Moreira, VP, Head, External Innovation at EMD Serono, our National Sponsor for AWARE for All, proudly hangs program posters and certificates at the company headquarters.